Nuke Performance CFC Unit For ATL Fuel Tanks / Fuel Cells Competition Race Car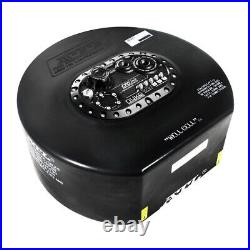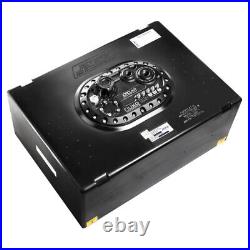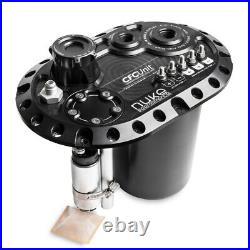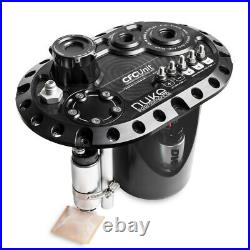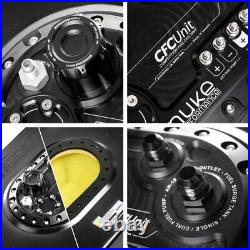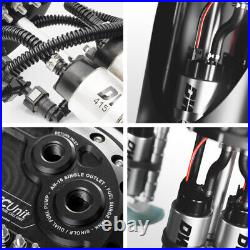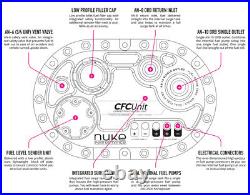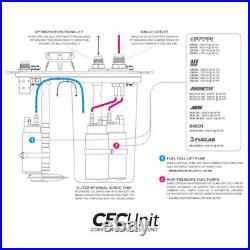 CFC Unit For ATL Fuel Cells - Competition Fuel Cell Unit With Integrated Fuel Surge Tank. ATL Fuel Cell / Tank not included. The Nuke Performance CFC Unit, specially developed for ATL and Fuel Safe fuel cells, with integrated fuel surge tank and fuel pump hanger. Fits most common fuel cells for your every need. The next-gen and the perfect solution for a modern, lightweight, safe and functional fuel setup for track days, time attack, drifting and any other type of Motorsport.

Eliminates fuel starvation during racing. The Nuke Performance CFC Unit eliminates the need for an external surge tank which is needed when running a fuel cell, it is a perfect use for fuel injected systems. Use with PWM control, combined with the CFC Unit is an effective solution to prevent emerging heat when running numerous fuel pumps.

This is the best way to eliminate fuel starvation that may occur in Motorsport and with the new high-profile version of the CFC Unit and its smaller mounting depth, this CFC unit fits close to all fuel cells on the market. No fuel pumps, fuel level sender or fuel pump mounting kits are included with this product. Fits your standard aftermarket ATL fuel cell. Low weight "drop-in surge tank" for your fuel cell. Integrated 2 litre Fuel Surge Tank functionality.

Single ORB10 (7/8 UNF) outlet fitting, for a trouble-free installation. Single or dual high-pressure fuel pump compatible. Specifically fits all ATL branded fuel cells. Compatible with E85, Methanol, Ethanol, and Petrol.

Low profile fuel filler cap with integrated roll-over valve. Fits Additional Venturi Lift Kit. Fits Number Of Lift Fuel Pumps. Fits Number Of High-Pressure Fuel Pumps. 6 x 10 24-Bolt Pattern.

6mm x 3 (max 125 ampere / each). Gasoline, Methanol, Ethanol & E85. Nuke Performance CFC Unit - High Profile Version (for ATL fuel cells). 6mm (M6) Electrical Connection Points. 1/4 BSPP To Male Barb 8mm Hose Fittings.

1/4 BSPP Plug (when using only one high-pressure fuel pump). Viton Gasket For 24 Bolt Pattern Fuel Cells (safe for alcoholic fuels).

Dual Billet Fuel Pump Bracket. AN08 (3/4 UNF) to AN06 Male Vent Safety Valve. Fuel Level Sender Spacer (used for fuel level senders without a symmetrical bolt pattern).

Integrated 2 Litre surge tank and billet fuel pump hanger for single or dual fuel pumps. The unique CFC Unit from Nuke Performance works as a fill plate replacement for fuel cells with the standardised 6x10 24-bolt pattern fill plates from manufacturers such as ATL, Premier, Pyrotect, Fuel Safe, Radium etc. The CFC Unit is the perfect solution for a simplified high performing fuel system where safety is of highest importance. With the integrated drop-in surge tank, this setup eliminates the need for a space-consuming external surge tank. With all the needed fuel pumps mounted within the fuel cell itself, this product is the only thing you need.

The simplicity of its design frees up space and weight while increasing safety, as fewer fuel line fittings are necessary and no external fuel pumps are used. With its unique low-profile billet design, this is the most lightweight solution on the market and lets you save crucial weight in your racecar. Internal high-pressure fuel pumps, for any need between 200 - 2000hp.

This high-profile CFC Unit fits all of the most common fuel pumps, both 39mm and 42mm body diameter. Together with the Nuke Performance fuel pump mounting kits, it has never been this easy to set up a high-performance fuel system. And every little part of the CFC Unit is guaranteed to work perfectly with alcoholic fuels, such as Ethanol even during long-term usage. How to mount fuel pumps within the Nuke Performance high-profile CFC Unit for ATL Saver cell fuel cells?

For more information, please download or view the attached user manual. The high-profile edition CFC Unit is delivered with everything you need to install the fuel pumps of your selection, but we recommend adding one of Nuke Performance's fuel pump mounting kits for optimal functionality. All fuel pumps are securely mounted in all conditions thanks to the billet fuel pump brackets. Which brands and what type of fuel cells can be used with the high-profile version of the Nuke Performance CFC Unit? The high-profile CFC Unit is developed out of the low-profile version, but with the addition of being able to, without any modifications, mount the CFC Unit into the popular Saver Cell fuel cells from ATL, and Fuel Safe fuel cells.

These fuel cells have a smaller opening than other common fuel cells, demanding this new design. One benefit of this higher profile design is that it requires less minimum mounting depth, at 197mm (7.75) instead of the 219mm from the previous slim-design version. This high-profile version offers the minimum mounting depth and fits smaller openings while boasting the same undisputable top-notch functionality and just a little bit more weight than the low-profile lightweight version.

How to connect fuel pumps to the electrical connectors and fuel lines? The CFC Unit from Nuke Performance utilises over-dimensioned electrical connectors is a fail-proof setup, you will not have to worry about the connectors being overloaded when running on high ampere. For the lift fuel pump you have two electrical connectors and for the high-pressure fuel pumps you have a total of three connectors, letting you run a dual fuel pump setup in two steps or simultaneous if preferred. The fuel line connects to the included barb fittings, but we recommend adding one of the fuel pump mounting kits for your selected fuel pumps to get all the benefits of easy maintenance, fail-proof functionality and long-run durability even when running alcoholic fuels such as Ethanol.

Low profile fuel filler cap or remote fill neck for 50mm fuel fill hose? The CFC Unit is delivered with a low profile filler cap with integrated roll-over protection.

But for those who prefer to utilize a remote fill, we offer a remote filler neck for a 50-52mm fuel fill hose. It fits straight into the CFC Unit and uses the integrated roll-over protection mounted on the underside of the CFC Unit.

The remote filler neck is available as an accessory. How to fit the CFC Unit to your own custom fuel cell. The CFC Unit is made to fit the standard 24-bolt pattern 6x10. We offer an aluminium flange that makes it possible to bolt the CFC Unit to a custom-manufactured fuel cell that utilizes this standard pattern. You could either weld it to your Aluminium cell or copy the pattern to your top sheet and bolt the CFC Unit to it putting the top sheet in between the flange and the CFC Unit.

The CFC Unit is delivered with a Viton gasket (safe for all types of fuels) that fits perfectly for custom fuel cell applications. The new high-profile version of the Nuke Performance CFC Unit requires no modifications to an ATL or Fuelsafe fuel cell before installation.